COMMITMENT TO QUALITY
With a commitment to quality, Fairwinds is proud to be one of the few companies
in Washington state to meet and even surpass Department of Health requirements
for medically compliant products. This means that Fairwinds follows voluntary standards
for higher quality products, including mandatory testing for:
Prohibited pesticides
Heavy metals
Mycotoxins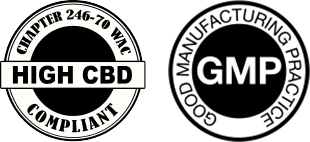 In addition to DOH testing, Fairwinds is also proud to provide test results for residual solvents and mold/bacteria.
IT STARTS WITH QUALITY GENETICS
Each Omrita cutting is hand-selected by our cultivators to ensure each plant starts with healthy and vigorous growth. This process (known as cloning) ensures that each plant has the identical genetics of this powerful strain and allows the potential to cultivate a developed plant with a consistent profile of terpenes and cannabinoids.
DEVELOPING THE CANOPY
During the vegetative phase, the cannabis plant is kept under specific light conditions to manipulate the precise growth before it begins its flowering time. During this phase, the plant is guided to develop a strong and healthy root system and continue stretching its branches which will one day hold beautiful Omrita flowers.
FRUIT OF THE HARVEST
The flowering phase is when the true bounty of the Omrita plant is revealed. In this portion of growth, our plants are fast to develop large, beautiful flowers that are coated in CBD-resin. The Omrita plant can take up to 13 weeks to fully develop the proper resin coating to turn into the finest CBD extract available.